This York Harbor Reading Room wedding in York Harbor, Maine has to be one of my all time favorites! I do love all of my brides and the special celebrations Beautiful Days creates for them but there's a little more sentiment in this one….I did my first Reading Room wedding over six years ago where our bride to be was working… Anneke wasn't even 20 but already collecting thoughts and ideas for her wedding so she asked for my business card and held onto it till Mr. Right came along years later ! Collaborating with Anneke and Austin was so much fun and together we created a celebrations that was elegant, romantic and classic with preppy and nautical details.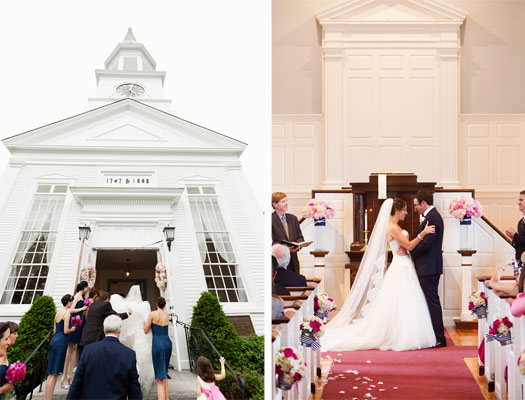 Anneke and Austin were married at the architecturally perfect First Parish Congregational Church on York Harbor. The church was decorated with lush wreaths 0n the entrance doors, super cute galvanized buckets with blue and white grosgrain ribbon detail on the pew ends and full and beautiful arrangements at the altar.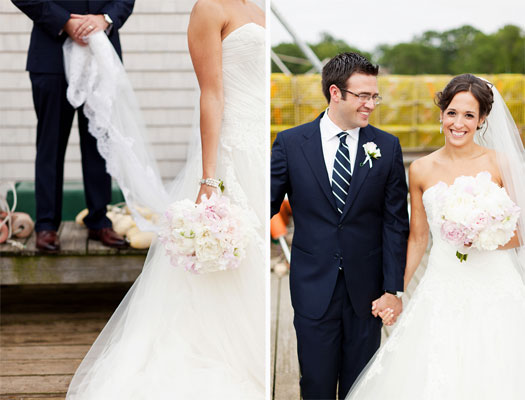 Anneke's bouquet was lush and lovely, made up of white and pink peonies and pale pink sweet peas. The perfect pink peonies were cut from my garden!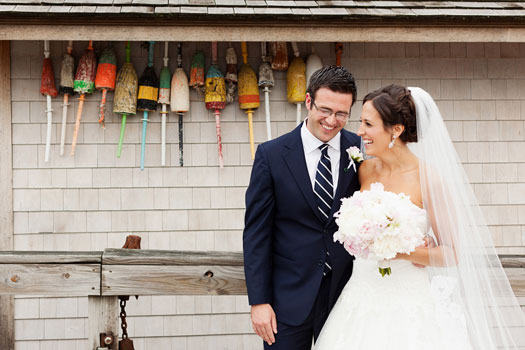 Fantastic photographer Eric Laurtis captured these happy moments following the ceremony at the historic John Hancock Wharf on the York River. And oh gosh Anneke's dress from Madeleine's Daughter was a stunner! She used to work at Madeleine's Daughter so she knew how to shop for the perfect dress.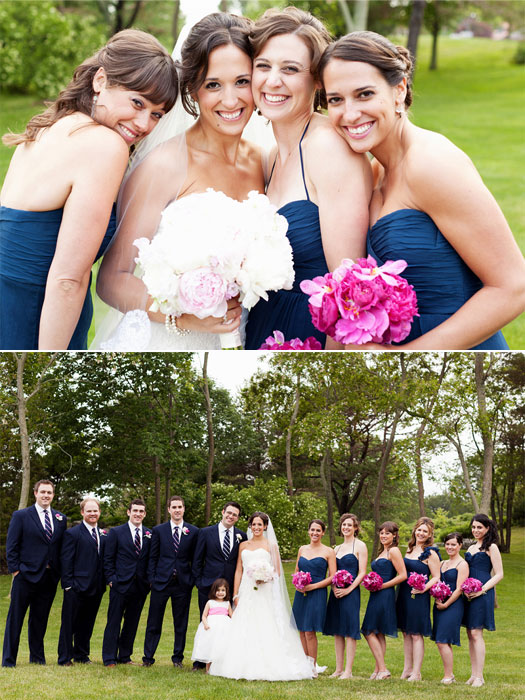 Anneke is one of four sisters and you can tell they are best of friends! The wedding party looked very sharp in navy accented with bouquets and boutonnieres of fuchsia pinks.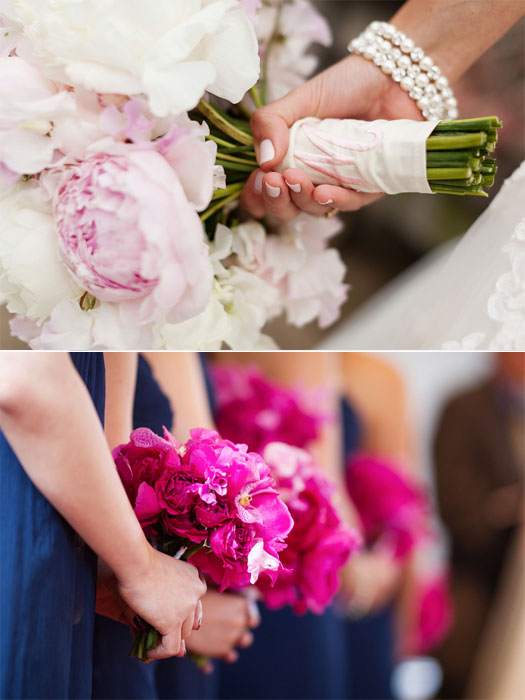 I created a custom monogrammed bridal bouquet wrap using a piece of Anneke's grandmother's wedding gown – love this type of detail and sentiment! And wow do I just have a crush on fuchsia…fabulous against the navy!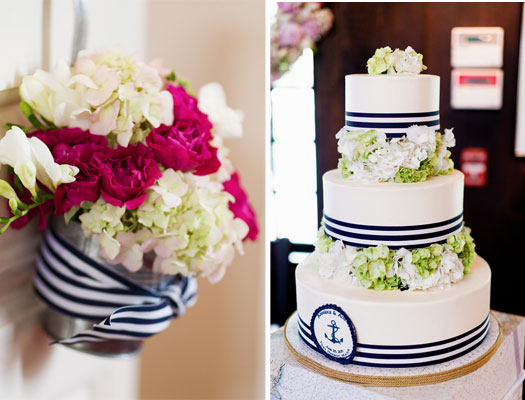 Pew end detail from the ceremony and the clean and classic cake from Beach Pea Bakery (on of my favorite bakeries!). I made a custom cake stand that was wrapped in nautical chart of the seacoast area and accented with white nautical rope. (or hmmm, I should  say "I designed" the cake stand since Beautiful Days' master craftsman and carpenter aka my husband actually made the stand!).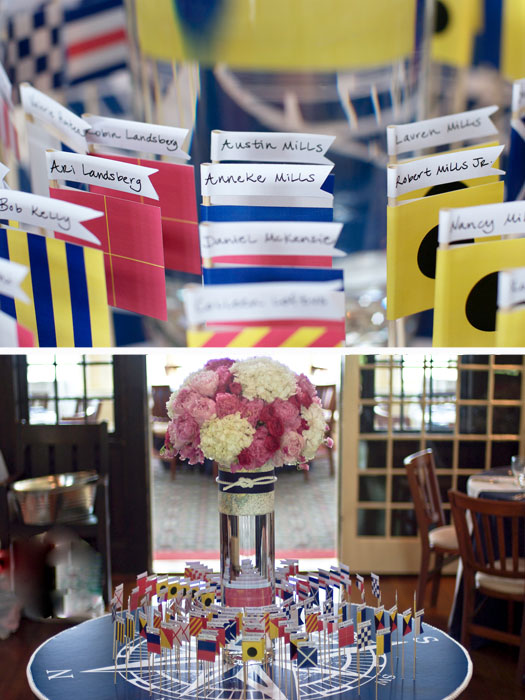 This escort card display is one of the highlights for me…Gus & Ruby Letterpress (who did all of the fabulous print pieces – more coming I promise!) created the nautical flags which we assembled on tall picks to display on the custom compass table topper along with a gorgeous arrangement of hydrangeas, peonies, sweet peas and ranunculus accented with a wrap of nautical chart, ribbon and nautical rope. The compass graphic was used as a select accent in the perfect print pieces from Gus & Ruby. When it was all set up I was head over heals! (The above two shots are by Wendy Freedman)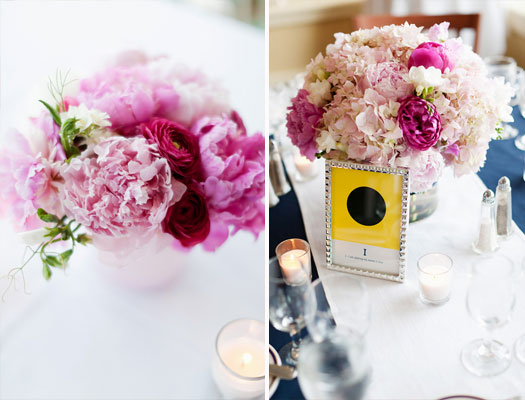 Oh so pretty cocktail hour and centerpiece flowers were so perfect for this start of the summer celebration. The table numbers of nautical flag symbols by Gus & Ruby were great graphic pops of color and interest. We had 100% linen runners custom made for all the dining tables – a really crisp and classic finishing touch.
More details… beautiful letterpress menus from Gus & Ruby tied on with more of our nautical rope – and yes I now know how to tie a simple sailor's knot!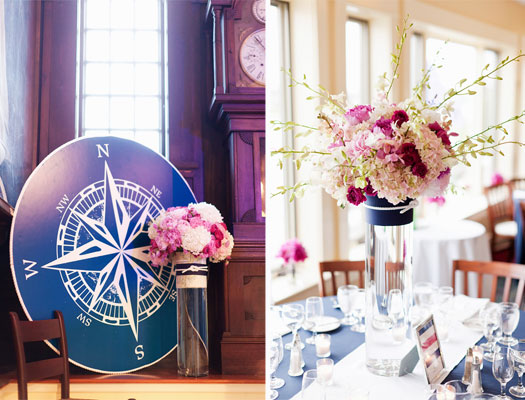 The escort card table top on display after the table was moved aside to make room for dancing. The head table had a special and dramatic floral arrangement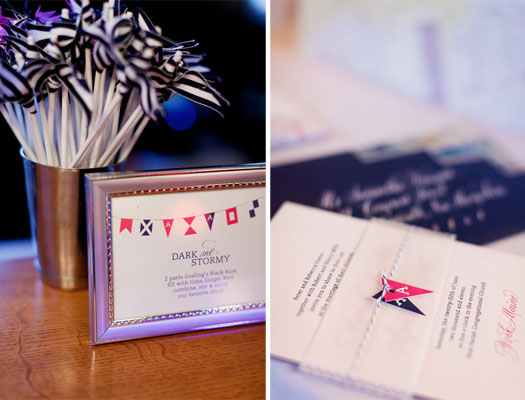 And more details!…Drink stirrers and signs and the amazing invitation suite from Gus & Ruby complete with a hand stitched sailcloth belly band and monogrammed pennant flags.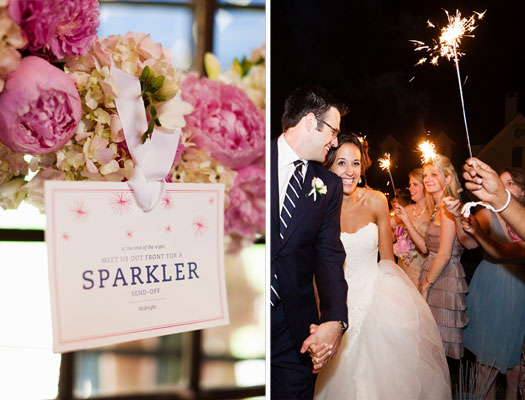 What's a party with out sparklers!?
The Reading Room has a large, gorgeous fireplace that we made glow with candles, candles and more candles!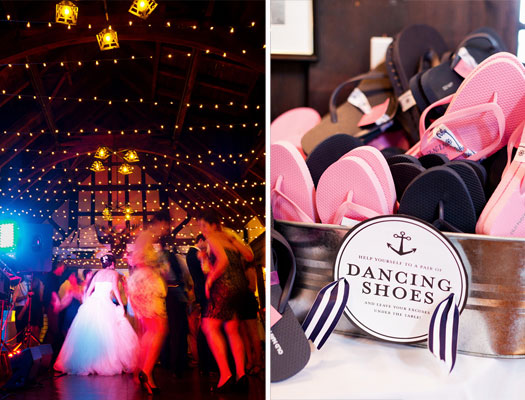 If you are dancing into the night under a golden canopy of twinkle lights why not do it in flip flops? (I'll take pink in size 9 please). The lighting we put up the large hall of the Reading Room added that extra layer of romance and festivity.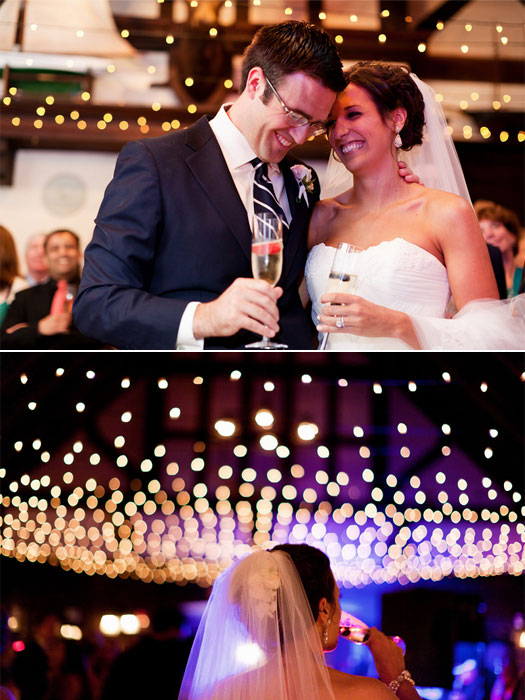 Congratulations to you Anneke and Austin! It was truly a special day. Anneke, I am so pleased you held onto that card for so long and you knew I was "the one" before you met "THE ONE!"
This wedding celebration was not only inspired by Anneke's vision, fabulous taste and attention to detail but was also a collaboration of fantastic wedding professionals who I was so honored to work and create with!
Beautifully photographing the day: Eric Laurtis
The perfect setting:  The York Harbor Reading Room, York Harbor, Maine
Custom invitation suite and print pieces: Gus & Ruby Letterpress
Cake creation-classic on the outside, oh so decadent on the inside: Beach Pea Bakery
Filming the day as only the best can: Meg Simone Wedding Films. You can take a peek at Anneke and Austin's day as told by Meg's film here.
Gorgeous bridal gown and maids dresses:  Madeleine's Daughter
Flowers, design, lighting, select decor details and partial day of coordination: Beautiful Days.