It goes with out saying that I love all of my brides! Designing and creating special floral arrangements and party decor for their wedding celebrations is truly an honor. It is extra special when I get to be part of more of their beautiful days! This past spring I was fortunate enough to create a bright, modern and crafty baby shower for dear bride Sarah. I had a ton of fun playing around with bold colors, a mix of fabrics and some local, handmade pottery.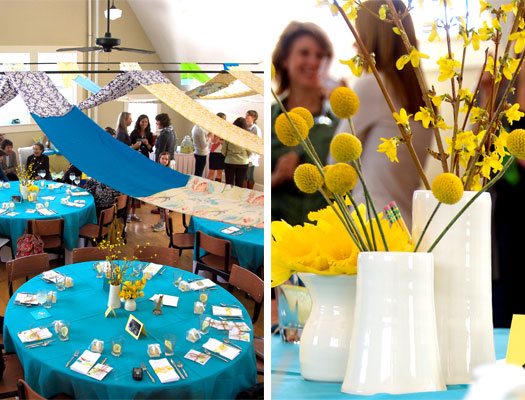 The fabric swags added that extra layer of joy to the festive occasion. I worked with local potter Amy Clark of Ocean Fire Pottery to create these custom white clay vase trios for the centerpieces…perfect for highlighting simple groupings of yellow spring flowers. The vases were then given to VIPs at the end of the party.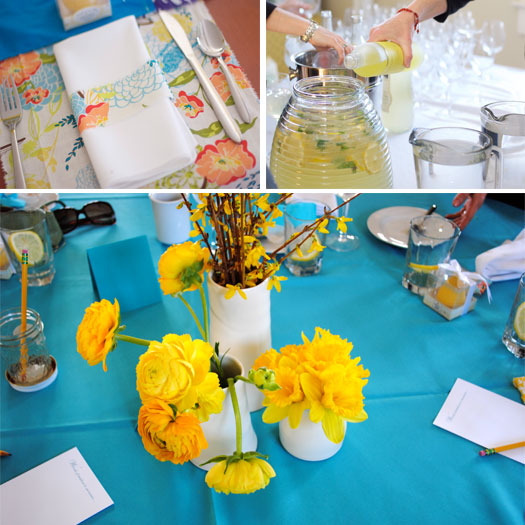 Yup that's me mixing up the party's cocktail of prosecco, limoncello, and lemonade. It's no wonder ranunculus are a favorite flower for so many – how it fits soooo many petals in one flower bud is beyond me! Guests were asked to write down some words of mama wisdom which were then read aloud after lunch -yes there were a few tears but alot of laughs too!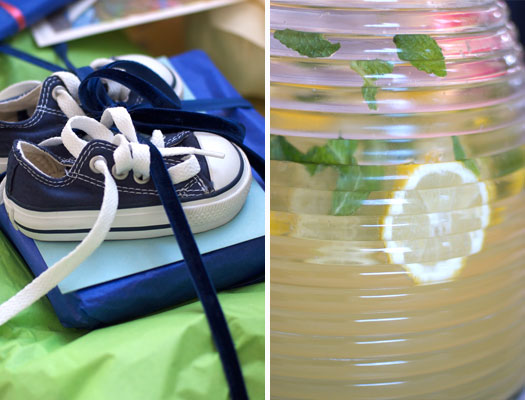 I had to include this photo of my gift to Sarah – my son's gently worn Converses increase the gift wrapping cuteness factor by at least 10! The fresh lemon slices of the party cocktail fit right in with the party's color scheme of course!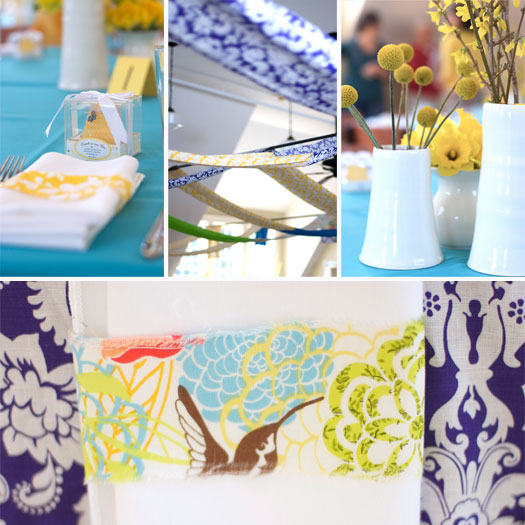 The napkins at each place setting were wrapped with strips of fabric used in the ceiling swags adding another punch of color. I LOVE how clean the vases are and that you can see the texture of Amy's hand work in the clay from throwing them on the wheel.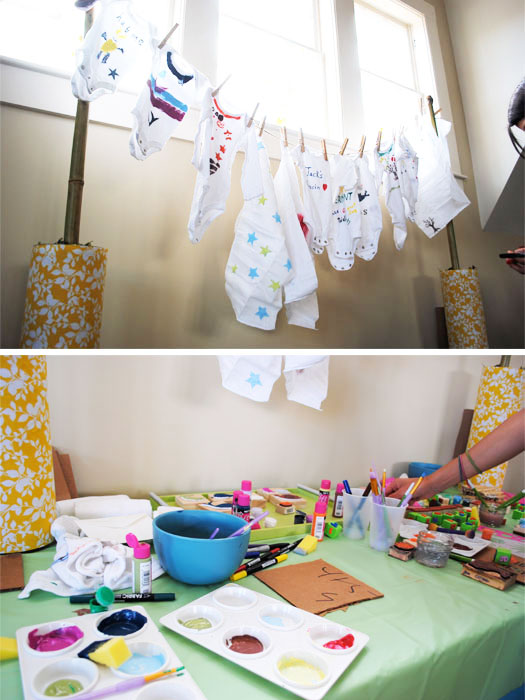 The guests were invited to decorate onsesis and burp clothes which a new mama cannot have enough of!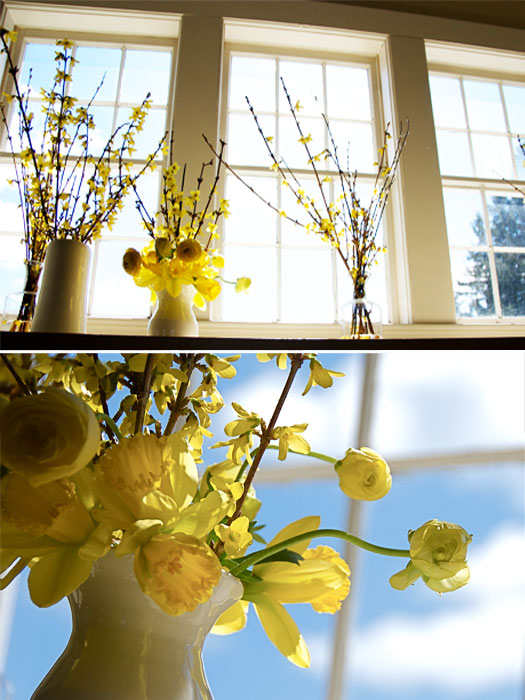 The day really was lovely and the space at the Brixham General Store was the perfect location…sunny, bright and open…and Brixham catered a delicious luncheon for the ladies.
Congratulations to you and your beautiful family Sarah! I hope I'm around for the next celebration!!!
You can get a glimpse of Sarah's wedding flowers here or see her and her family (pre baby) be the best models ever for a Beautiful Days inspiration shoot here.
A special thanks to Wendy Freedman of New Castle, New Hampshire for the photos, Amy Clark of Ocean Fire Pottery of York, Maine for the collaboration and perfect vases and Brixham General Store of York, Maine for the great spot and fantastic food!