Wow is it already the end of April!? With the arrival of spring I have been very busy in the garden expanding my flower cutting beds and ambitiously planting a lot more veggies. I'm hoping my green thumb lasts thru the summer! Spring always holds so much promise…putting seeds in the ground, watching the first sprouts come up and perennials reappear from a long winter is a reminder of all the beauty that will begin arriving in a few short weeks. I always enjoy including flowers from my gardens in my clients floral creations and usually have cosmos, sunflowers, assorted grasses and other special garden treats to choose from. This spring I am dedicating one planting bed to some beautiful dahlias from Endless Summer Flower Farm in Camden. I used cut dahlias from them last fall in a gorgeous range of pinks that were specially grown for us and were just perfect!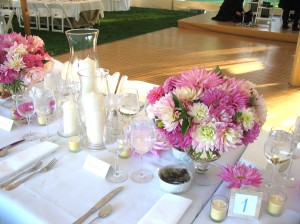 How could I resist planting these beauties!?
I'm also planting a hops plant which produces a very cool green flower, adding some more clematis vine and grasses plus some new varieties of sun flowers. A few weeks ago purple kale, mizuna and oracle seeds were put in the ground in the hopes that they are mature enough to use for my first wedding in early June. We're using a range of deep plums and purples with black raspberries and adding the unique purple accents of these edible greens will look fantastic.
As the season moves forward I'll be sure to post photos of flower arrangements using special cuttings from the gardens of Beautiful Days!